Butterfly
On the verge of her fourteenth birthday, Plum knows her life will change. But she has no idea how.
Over the coming weeks, her beautiful neighbour Maureen will show her how she might fly. Her adored older brothers will court catastrophe in worlds that she barely knows exist. And her friends – her worst enemies – will tease and test, smelling weakness. They will try to lead her on and take her down.
Who ever forgets what happens when you're fourteen?
'Lucid and beautiful, compassionate yet unflinching, enigmatic yet touching, sometimes tragic sometimes funny . . . a writer at the height of her powers.' Weekend Australian
'Rich, visceral . . . Hartnett's tiny domestic insights unleash a tornado of human experience.' Herald Sun
'Hartnett's prose is breathtakingly good . . . Will make adult female readers shiver with gladness at being all grown up.' Big Issue
'Full of insight and wit.' The Guardian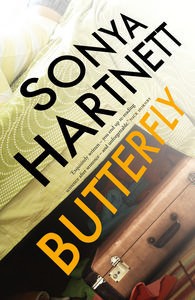 Published:

28/09/2009

Format:

Paperback, 224 pages

ISBN:

9780143203056

RRP:

$19.99

Imprint:

Penguin