Golden Boys
With their father, there's always a catch . . .

Colt Jenson and his younger brother Bastian have moved to a new, working-class suburb. The Jensons are different. Their father, Rex, showers them with gifts – toys, bikes, all that glitters most – and makes them the envy of the neighbourhood.

To Freya Kiley and the other local kids, the Jensons are a family from a magazine, and Rex a hero – successful, attentive, attractive, always there to lend a hand. But to Colt he's an impossible figure in a different way: unbearable, suffocating. Has Colt got Rex wrong, or has he seen something in his father that will destroy their fragile new lives?

Sonya Hartnett's new novel for adults is an unflinching and utterly compelling work from one Australia's finest writers.
'Golden Boys has a line-by line brilliance that is startling ... [Hartnett] is one of Austtralia's most penetrating analysts of the travail and turmoil of families, especially as witnessed and suffered by the young.' Weekend Australian
'Sonya Hartnett is that rarest and most precious of writers: a reverse Peter Pan.' Saturday Paper
'A web in which it is a pleasure to become entangled.' Saturday Paper
'Succinct and vivid.' The Age
'A fine portrait of the charming predator.' West Australian
'An absorbing, fiercely elegant and tangibly believable novel that raises questions about our responsibility to bear witness – and details thecomplex obstacles to doing so.' Australian Book Review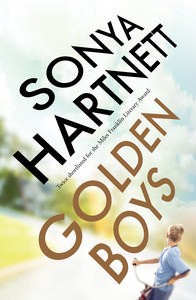 Published:

27/08/2014

Format:

Paperback, 256 pages

ISBN:

9781926428611

RRP:

$29.99

Imprint:

Hamish Hamilton